Jun.
8
2010 - 4:21 pm |
336 views
|
0 recommendations
|
3 comments
Public to Obama: kick BP's ass!
There has been much discussion today over President Obama's comment on the Today show about meeting with experts to know "whose ass to kick."
Jim Hoft at Gateway Pundit wondered if Obama's comment was, "real or some kind of weird joke?" Ann Althouse said the comment reminded her of , "George Bush's "dead or alive" cowboy style." And over at Hot Air, Allahpundit thought, "nothing would top "plug the damn hole" as a feeble show of command in the teeth of pure federal impotence, but never underestimate The One."
But a poll out today by the Washington Post and ABC News shows that the public is finished discussing the situation and knows exactly whose ass to kick: BP's.
Among the many questions presented, pollsters asked, "Do you think the federal government should or should not pursue criminal charges against BP and other companies involved in the oil spill? Do you feel that way strongly or somewhat?" The response was definitive.
Of those polled, 51% strongly believe that the federal government should pursue criminal charges against BP and 14% somewhat believe that BP should be held criminally accountable. Conversely, only 14% of respondents strongly believe that the federal government should not pursue criminal charges and another 14% somewhat believe that BP should not be criminally liable.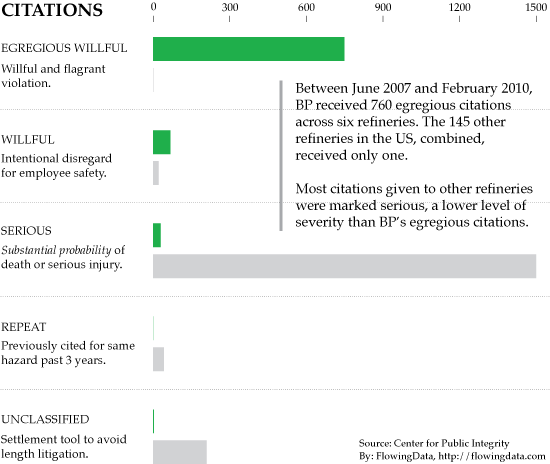 All of which comes out as reports surface that BP has a long history of taking advantage of the regulatory capture that has plagued (or been a boon to, depending on your perspective) the US oil industry and the Minerals Management Service. Of course, we knew about those problems a while back, but better late than never.
(Image via Andrew Sullivan)
The WAPO-ABC News poll also shows the abysmal rating that the federal government and Obama have received in response to the Gulf spill. Ostensibly, President Obama's newly found tough guy act — which continues with a comment that Obama would have fired Tony Hayward, CEO of BP, by now — is designed to address and hopefully alleviate those negative perceptions.
However, if the President is interested in bringing the public around on the spill, his course of action is relatively straight forward. Actions speak louder than words: put the full weight of the presidential bully pulpit behind pursuing criminal charges against BP.
Post Your Comment
You must be logged in to post a comment
T/S Members
Log in with your True/Slant account.
Previously logged in with Facebook?
Log in to True/Slant with Facebook