May.
1
2009 - 12:51 am |
159 views
|
2 recommendations
|
54 comments
Gay Marriage: The Storm IS Coming
Sullivan talks of a sea change.
TPM sees a "tipping point."
Yglesias detects a "feedback loop."
Everyone's excited about a new ABC News-Washington Post poll showing more people in support of gay marriage than opposed to it: 49% to 46%. A full 53% say that gay marriages valid in other states should be recognized in their own states.
This is big. But it's also of a piece with a general trend toward support for gay marriage that's been going on for a while now — a trend that anyone who's looked at the data knows is strongly generational (young people support gay marriage while older people are resistant).
I have my own many-times-stated views on the gay-marriage debate (for it — gay marriage, that is, not so much the debate), but here I want to look at what's happening with public sentiments in a more theoretical way. In particular, I want to make the argument that we may be starting to see a "bandwagon effect" that will significantly increase support for gay marriage in the next few years.
The bandwagon effect — relatively well-established in social and political science — is when voters are influenced in their opinions or votes by which side they perceive as having majority support or being the "winning" side. While partisans tend to remain committed, more undecided voters react to two basic impulses: wanting to follow the herd and assuming that the majority of people must have information that they don't.
Some significant demonstrations of the bandwagon effect include:
* In a 1994 study, Robert K. Goidel and Todd G. Shields found that Independents are twice as likely to vote for the Republican candidate when the Republican is expected to win. When the Democrat was expected to win, independent Republicans and weak Republicans are more likely to vote for the Democratic candidate.
* A study during the 1992 presidential election found that polls predicting that Bill Clinton would win could move Republicans to vote for the Democratic candidate.
* A 1993 study out of Canada found a significant bandwagon effect (5%-7%) on the issues of abortion and Quebec's constitutional future.
The question, then, is whether this is happening on gay marriage.
The first question, of course, is whether there's a pronounced trend toward public support. Despite a misinformed editorial from National Review earlier this year (one which will go down in history along with the magazine's pro-segregation editorials of the 1950s), the trend is clear.
To statball Nate Silver:
As this chart of major polls on gay marriage and civil unions makes clear, support for both is on the rise. Civil unions are pretty clearly above the 50% mark at this point. The new ABC News-Washington Post poll is probably a little on the high end, but gay marriage has clearly come a long way as well.
So, is gay marriage picking up steam, or is this going to be an extremely gradual process?
Well, as Silver mentions in his post, gay marriage has gained about 8 points since 2003's Massachusetts court decision; civil unions have gained about 13 points. Now, the civil-union data doesn't go back very far. But that 8 point gain over six years for gay marriage is better than the roughly 6 point gain that gay marriage saw in the nine years since 1994.
The line for gay-marriage support may not be soaring. But it's getting steeper.
(And, it was pulled down for a little while by the backlash against the Massachusetts decision.)
But will support for gay marriage accelerate?
Things are certainly going better than they did with interracial marriage, legalized by the Supreme Court in 1967. Just look at this chart from Gallup: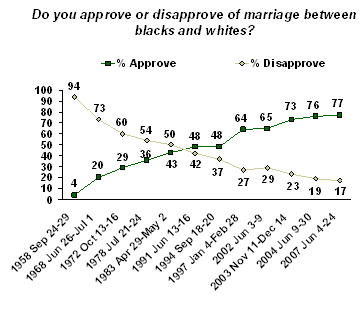 Does it shock you that the lines here only crossed around 1991? That we're only at 77% approval today? That the rate of change averaged 1% per year?
Well, civil unions are getting way better than 1% per year; gay marriage was under 1% and is now over it.
What's more, politicians within the Republican Party who hope to have a future in national politics, like Utah Gov. Jon Huntsman, are starting to come out loudly in favor of civil unions (at least) and the idea that the GOP should give up its quest against gay marriage.
Whether or not some people want to call it media bias, the message going out to the average voter on the fence is that this is the way the wind is blowing — anyone who's not on board will be left behind.
You're seeing panic on the part of the anti-gay-marriage forces because they realize this storm is coming. There have been a few factors at play:
* The slow and constant replacement of the old by the young
* The introduction of the idea of gay marriage as a concept in public debate (a huge hurdle at the beginning was how alien the entire concept was)
* The introduction to actual gay couples as marriages and civil unions happened and the world didn't end
Add to this a growing sense that there's a bandwagon forming… well, I don't think there's any way to quantitatively predict such things. And there are obviously a lot of people who will remain opposed out of a combination of religious belief and homophobia.
But I think the anti-marriage folks are right: A storm IS coming.
Now that it's here (or at least very close), perhaps the most effective thing advocates of gay marriage can do is: declare victory.
Post Your Comment
You must be logged in to post a comment
T/S Members
Log in with your True/Slant account.
Previously logged in with Facebook?
Log in to True/Slant with Facebook