Jul.
13
2010 - 6:03 pm |
46 views
|
0 recommendations
|
1 comment
Is Profit Behind Dermatology's 'Sun Scare' Message?
There's a strange health tug-of-war going on. Doctors are now telling us to get back into the sun for better health since a large majority of Americans are being deprived of natural vitamin D and other benefits associated with sunshine. Meanwhile, the cosmetic dermatology industry seems to be turning up the heat on their "stay out of the sun, wear sunscreen 24/7″ message.
Who's a person to believe?
With balance and common sense seeming pretty obvious, it calls the question: What's really behind the 'sunshine is killing us' message that's pouring out of dermatologists' mouths, via the media, these days?
With the summer months upon us I wanted to find out firsthand what exactly the mantra is that dermatologists are telling patients. So I went undercover to several San Francisco dermatologists in order to see if there is legitimate concern about the sun-scare media hype. Are these doctors being sensible or going overboard when it comes to advice on sunscreen use and skin cancer prevention? Is the sky falling with dangerous UV rays or are we being induced into a media panic?
Let's journey on into the heart of mole darkness and find out.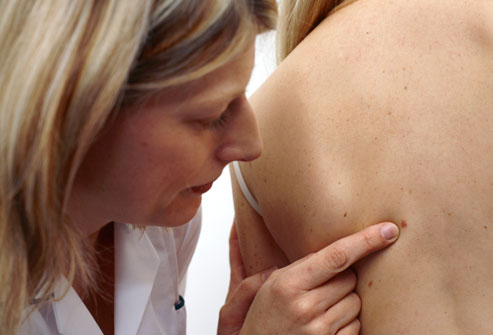 Dermatologist Appointment #1: Marina District
My first dermatology stop is in the posh San Francisco neighborhood near Union Street. With nothing to read but Botox literature, I'm made to wait in the pristine reception area for a good hour. This place feels more like a cosmetic spa than a doctor's office. With all these pamphlets on wrinkle elimination, the dermatologists' message seems to be centered on beauty rather than health issues. My excuse for wanting an appointment is to get my moles checked out. The message dermatologists constantly trumpet is that moles should be frequently checked for malignant melanoma. Except these are ordinary moles I've had my entire life.
Finally my name is called.
I'm then made to wait another 20 minutes in the examination room. The dermatologist finally comes in. I take off my shirt and point to my moles. She immediately determines that they don't look cancerous. I press her by saying the mole under my arm is of concern because it rubs against my clothes. She takes a closer look:
(Listen to the appointment here.)
DERM: Now as far as this mole right here.
ME: Yeah, how about getting that chopped off?
(The dermatologist then explains the protocol.)
DERM: Because of the insurance we need to get approval. Because, we don't want you to get a bill we want your insurance to pay for what they need to pay for. So that's why we have to ask their permission. It usually takes a week to get their permission. Then we'll ask you to come back here.
(She looks harder at my moles and concocts a plan.)
DERM: This one, I'll remove for you because you said it's become irritated. If you want to get things removed for cosmetic reasons I don't know if your insurance will balk at that. I think if we remove a couple of other spots because it's irritated, you're maybe worried about it, and I want to make sure its not skin cancer, they will pay for that. But I've had patients come in and remove seven moles at once, and they were all for cosmetic reasons, and the insurance said we're not paying for any of that and she got a huge bill.
DERM: I think if we took off a couple of moles they wont say anything like that.
ME: So just a couple of moles?
DERM: Yeah. I think if we do a couple of moles I don't think they'll balk at that. So which moles do you want done? (She looks again at my non-skin-cancerous moles.)
The one here I'm going to say gets irritated sometimes on clothes. And when it gets irritated does it get itchy? You just kind of recognize that its there. I'll just say it's more sensitive. How about that?"
ME: If you can get my insurance to cover it that would be great.
DERM: So right here I'll say that's an irritated mole–the one on the front.
ME: I guess that's irritating too.
DERM: I'll say: rubs on backpack. So sensitive or itchy?"
ME: Let's just go with itchy.
DERM: If it's an irritant mole they will cover it.
Bingo! We go with irritant. Besides being advised that I should never go into the sun without wearing a visor, sunglasses, long sleeves and sunscreen (which needs to be reapplied obsessively every few hours), I can get my non-cancerous moles removed because they are an irritant. (A week later I find out that my insurance approved the removal of these two non-cancerous moles–I'm added to the reported melanoma statistics.)
It happens more often than you might think. A quick Google search shows that in the past years several dermatologists have been sent to prison for flat-out lying about skin cancer to their patients; slicing up healthy skin for insurance dollars. Do these cases show there's money to be made in cutting off skin lesions and calling them cancer? Is this a factor why skin cancer numbers might seem overinflated? Do the numbers add up when you start digging?
A May 2010 study in the Journal of the National Cancer Institute listed melanoma as one of five cancers over-diagnosed by doctors. Though doctors are removing more and more skin lesions, researchers pointed out that melanoma mortality rates haven't increased since 1975–with insurance companies paying for the procedures.
A 2009 British Journal of Dermatology report also concluded: that melanoma isn't increasing in actual incidence, but merely in reported incidence. What the report found was doctors were simply reporting and removing more lesions that may not actually be cancerous.
Would this explain why the United States has just 4.5 percent of the world's population but has 52 percent of the world's melanomas when you compare the American Cancer Society's numbers (68,720) with those from the World Health Organization (132,000 worldwide)? In contrast, both melanoma and non-melanoma skin cancer have been declining in Canada. A University of Alberta study this year showed that non-melanoma skin cancer incidence in Canada has been declining for a generation. Riddle me this: how is it possible the U.S. estimates more-than-triple while Canada's real numbers are actually declining? Has the U.S. dermatology-induced media scare propagated more dermatologist visits in our for-profit health care system or are a larger number of Canadians simply staying inside to watch their beloved championship curling teams?
Regardless, by having just a few cosmetic moles chopped off, my dermatologist was able to fix it so my insurance company would foot the bill.
Read the rest of the story by clicking to the Huffington Post.
Post Your Comment
You must be logged in to post a comment
T/S Members
Log in with your True/Slant account.
Previously logged in with Facebook?
Log in to True/Slant with Facebook